There are now over 100 million Diabetics and Prediabetics here. It's safe to say that doctors are not doing anything to prevent diabetes and the doctors that tell you what to eat and what not to eat, have no business telling you, since they are drug doctors and not food doctors . Not to mention, many of them are diabetics themselves!
But then again, Big (fake) Food and Big Pharma both supply millions of patients to hospitals and clinics each year, so you can't expect any prevention anytime soon.
Of course, you can prevent diabetes yourself, or at least help balance your blood sugar, and I am going to show you how in just a moment. But first, let me tell you a recent experience. A mother of 3 contacted me recently and she told me how difficult it is to find anything healthy and delicious to eat all day.
She said her meals are often bland and boring.
She's tried countless diets, she's constantly exercising and she swallows about 10 pills every day for both her 'nutrition' and of course her regular meds. I asked her how long she's been doing all of that for. She replied, "6 years". That's an awful long time to live like that.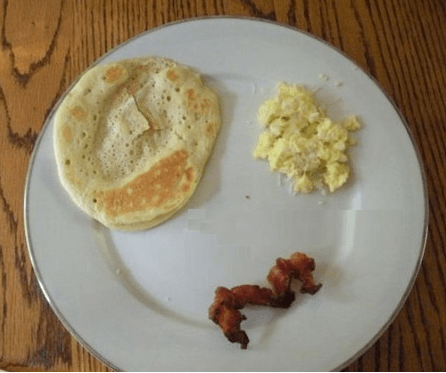 And if this isn't one of the saddest breakfasts out there, I don't know what is.
And I asked her if doing all of that for the last 6 years has improved her health. She replied, "Not much actually. In fact, I've developed these skin rashes that I've never had before." I told her that's a typical side-effect from those drugs she takes every day, it says so right on the drug inserts.
At this point she was ready to try whatever works, so I introduced her to the only 100% Organic Diabetic Meal Replacement, called MealBetix. And it's very simple.
Just replace 2 meals each day with MealBetix and that's it. Mix 1 heaping table spoon in a 12 oz cup of water or thermos for each meal. You can also take a few cans on the road, so you don't have worry about what to eat all day and have those unhealthy cravings.
So this saves you a lot of time for one, but also saves you a lot of money. The average somewhat healthy meal is easily over $10 and that's definitely not for an all organic meal, like MealBetix, either.
What are some of the benefits she has already experienced after eating MealBetix for the last month?
Besides finally enjoying a truly healthy and delicious breakfast and lunch every day, she's cut her pills down to less than 5 every day. And her rashes are almost all gone. And let's not forget her A1C was above 7%, but now it's around 6%. And this is after just a month!!
Can you imagine her benefits after another month? She's excited to say the least. "There's nothing else like this anywhere out there", she said. And she's right!
MealBetix is the only Organic Diabetic Meal Replacement online and it's changing lives daily. Are you ready?